A few month ago, Pradeo and its japanese partner DNP (Dai Nippon Printing Co., Ltd.) presented their new App security offer combining their expertise in a one-stop shop.
The new comprehensive Application Security service received two prizes at the Interop Event in Tokyo, on June 7th, 2017.
The prizes were awarded by a Review Committee composed of academic experts. Approximately 300 solutions competed for awards in Cloud Services and Network Security fields.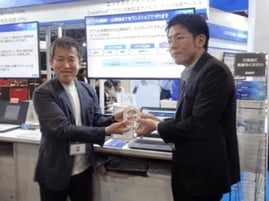 Comprehensive Application Security Service
The combination of DNP and Pradeo App security services delivers an end-to-end protection from the strengthening of Apps as part of the development phase to the operating management of threats on users' devices.
1. Pradeo's Application Security Testing module provides in one-click an accurate and comprehensive report for any mobile app just from its binary file. Thanks to its unique patent technology, it reveals and qualifies hidden behaviors, vulnerabilities and suspicious activities of mobile Apps.
2. DNP's cracking protection software featuring Apps hardening: CrackProof is an anti-cracking software, available on the Cloud, which prevents malicious analysis and tampering of Apps. It has been adopted by various industries such as game, financial and connected cars.
3. Pradeo's "In-App" Protection module: By integrating the "In-App" Protection module from Pradeo within their App, companies manage threats directly on the user's device with a 360° approach and react according to detected security breaches.