The Cybersecurity Excellence jury has released today the names of the best cybersecurity solutions it has awarded in 2019.
We are proud to announce that Pradeo has won the award for mobile security solution of the year, along 4 other prizes for its advanced solutions including Mobile Threat Defense, Mobile Application Security Testing, Runtime Application Self-Protection and GDPR compliance solution.
#1 Mobile Security solution of the year
The Pradeo Security solution suite was recognized as the leading solution of the mobile security category.
Pradeo's solutions protect mobile devices and applications from attacks and data exfiltration. Pradeo's cutting-edge technology was designed from the ground up to precisely identify and neutralize cyber threats lurking on organizations' mobile environment. Its accuracy makes it the most reliable mobile security technology on the market.
Pradeo has developed through the years a robust network of partners (BlackBerry, Microsoft, MobileIron, Samsung, Splunk, VMware...) to facilitate the implementation of its mobile security solution within any existing ecosystem. The Pradeo Security solution suite is available in more than 60 countries through its major distributors including Synnex, TechData, Ingram Micro and others.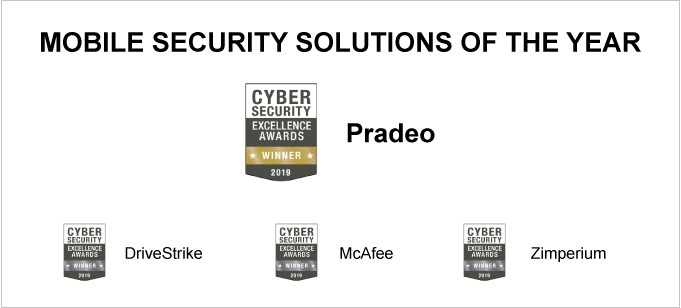 #1 Mobile Threat Defense solution of the year
Pradeo Security Mobile Threat Defense is a solution dedicated to protect corporate mobile devices (COPE / BYOD). It relies on an on-device agent that constantly checks mobile devices' integrity, in real-time and ensures an immediate threat detection combined with an automatic threat blocking.
Pradeo Security MTD allows organizations to protect their mobile device assets from threats operating at different levels: application (malware, spyware…), network (Unsecured WiFi, Man-In-The-Middle…) and the device level itself (Root, vulnerability exploit…).
#1 Mobile Application Security Testing solution of the year
Pradeo Security Mobile Application Security Testing is a service that allows organizations to audit the security level of any mobile application, whether it has been developed internally or by a third party.
This way, security heads can ensure that applications they distribute won't be the source of any data exfiltration. Pradeo Security MAST is available as a ready-to-use platform, as an API to integrate within developers' environment or directly in IBM MaaS360 UEM.
#1 Runtime Application Self-Protection solution of the year
Pradeo Security Runtime Application Self-Protection protects the sensitive data manipulated by critical mobile applications (credentials, banking information, health details…) from environmental threats silently trying to access them, while running on non-protected devices.
Pradeo Security RASP comes as a security module to be embedded within mobile applications. Once embedded, it is entirely manageable from the remote console and won't ever need to be updated, saving developers precious time.
#2 GDPR-compliance solution of the year
Pradeo Security comes as a unified platform that provides end-to-end services to aid companies enforce data privacy regulations compliance across their mobile environment. It offers 4 complementary services that allow organizations to:
Define their mobility-related GDPR-compliance requirements (Free online audit)
Track manipulations of GDPR-sensitive data on employees' mobile devices and remediate non-compliance (Mobile Threat Defense)
Identify mobile applications' actions on GDPR-sensitive data (access, sending, deletion…) and vulnerabilities potentially endangering their privacy (Mobile Application Security Testing)
Shield mobile applications that handle GDPR-sensitive data (mobile banking, health…) while they execute on end-users' device (Runtime Application Self-Protection)
The Pradeo Security solution suite provides IT security teams with a unified console to fully manage the GDPR-compliance of their mobile framework. It ensures that the personal data of their clients, employees and partners won't leak or get robbed, as required by the regulation.
See the full award results here.
You might also be interested in: